November has blown in some exciting changes for me, with my move to a beautiful new studio just last weekend! My studio is still in the wonderful Oakdene Centre in Bear River, but I have moved to a studio at the front of the building, a space with great light, big windows, high ceilings, and light hardwood floor, creating excellent conditions for painting. Needless to say, I am reveling in this beautiful space, and feeling quite inspired! (It also has great acoustics, which is a bonus, because I like to pull out my fiddle, mandolin and/or  concertina and play a few tunes during my painting breaks!) 
I will be opening my doors and holding a Studio Open House on Saturday, November 25th, and I invite you to drop by and check out my new studio and have a chat! The hours will be 9 until 5 p.m., and I will have recent paintings and prints (monotypes, screen prints, lithographs) on display. This will be both an exhibition of some of my recent work and a fundraiser, with all art sales donating  10% to the Oakdene Centre, which is a non-profit organization. The address is: 1913 Clementsvale Rd., Studio 5, Bear River. 
My Studio Open House coincides with an event happening in gym (the upper floor of the Oakdene), the annual Christmas Craft Sale, which runs from 10 until 4 p.m. All of the village of Bear River is taking part in Wintertide, https://www.facebook.com/events/708004424122219, with most shops and galleries open until 4 p.m. that day.
IMPRESSED: Marking the 20th anniversary of the Elephant Grass Printmakers Society, is a group show "Impressed"  featuring prints from the members of the EGPS collective (I have a monotype included) in the Chapel Gallery at ARTsPLACE in Annapolis Royal, N.S. for the month of November. https://www.arcac.ca/onnow_chapelgallery.html  The opening reception is tomorrow (Nov.  4th) from 11 a.m. until 2 p.m.  
Come help us celebrate!
Hope to see you at one or both of these events!
Cheers,
Eva
Solo Exhibition of Ruptured Landscapes at the Rotunda Gallery, Kitchener City Hall, Kitchener On March 1- April 31, 2023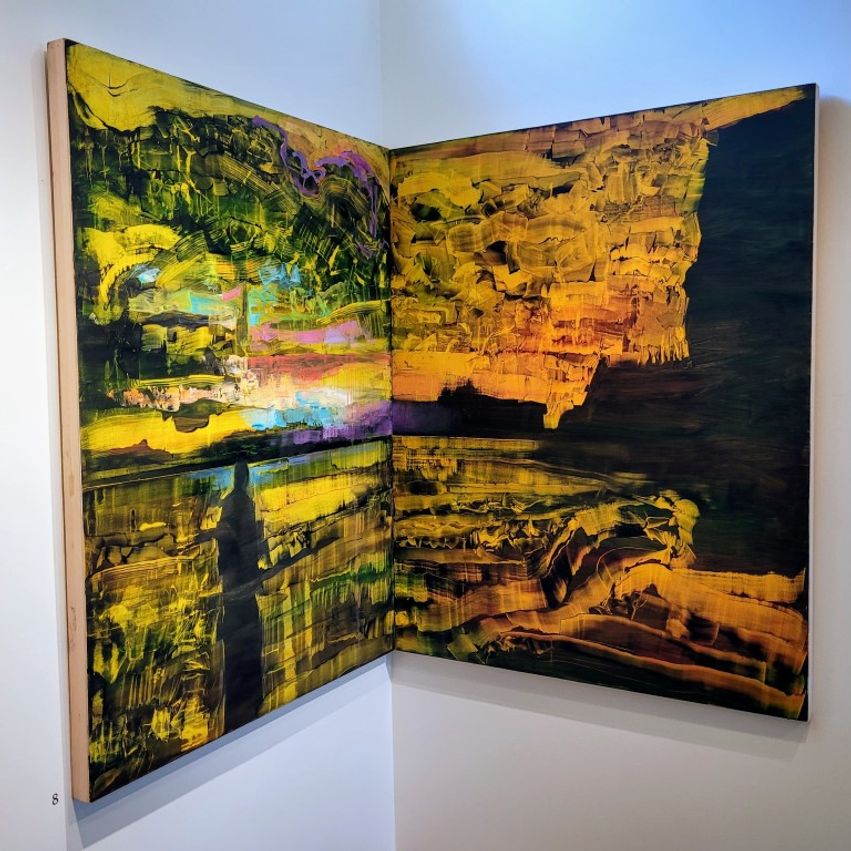 Solo Exhibition of Ruptured Landscapes at Saint John Art Centre
May 1 - June 26, 2026
"Ruptured Landscapes", paintings by Eva McCauley will be exhibited at the Port St. John Gallery at the Saint John Art Centre in Saint John, N.B. Opening reception on Friday May 1, 2026. Show runs from May 1 to June 26th, 2026.
Ruptured Landscapes ("Les Paysages Bouleversés") 
An Exhibition of Paintings by Eva McCauley 
JULY 29 - AUGUST 29     Opening reception Sat. July 29, 2 – 5 p.m. 
 Galérie Père-Léger-Comeau, Université Sainte-Anne, N.S.  
Eva McCauley is a painter and printmaker, best known for atmospheric, expressive paintings of sky, water and shifting landscapes that explore the passage of time and the transient and ephemeral nature of the world. She resides in Bear River, Nova Scotia, her house built into a cliff overlooking a tidal river, in proximity to the ocean. The experience of living close to the ocean had a profound impact on her work.  Her work has become increasingly concerned with the impact of climate change, particularly in respect to the oceans.  
 Ruptured Landscapes ("Les Paysages Bouleversés"), her current series of oil paintings, explores our relationship with the fragile environment we live in, a world threatened by systematic disintegration and devastation. Her paintings investigate and speak to climate and environmental change, particularly on oceans and shorelines: the sea level is rising, waters are warming, storms are intensifying, lives and communities are at risk.  Conjured partly from my memory, partly from photo references, the figures in the paintings uneasily inhabit places that she has explored in the past and present, with a focus on their relationship to bodies of water.  
 You are warmly invited to view the exhibition "Les Paysages Bouleversés", which will be displayed at Galérie Père-Léger-Comeau at Université Sainte-Anne at Church Point, N.S. from July 29 to August 29.  
The opening reception will take place on Saturday, July 29th, from 2 to 5 p.m., and the artist will be present to talk about her work. 
The opening coincides with the launch of the Acadian Festival in Clare. To join with the spirit of the celebrations, there will be live Acadian music at the gallery and refreshments served.  All are welcome! 
The artist wishes to acknowledge the financial support of Arts Nova Scotia.  
For more information please email: aoifemccauley@gmail.com          www.evamccauley.com