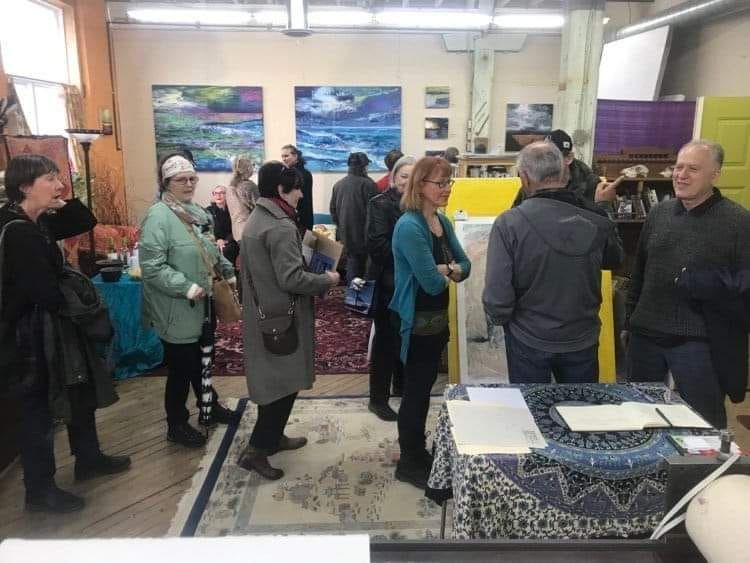 Art News - 2022 in Review 
Hi friends, 
This past year has been a truly memorable one! I am grateful for all the amazing opportunities, warm support, and positive feedback. 
My year started on a high note with notification of being awarded an Arts NS Creation grant, to help fund my current painting series, "Ruptured Landscapes". 
"Ruptured Landscapes" is a suite of oil paintings that explores the relationship between humans and the vulnerable and fragile environment we live in, a world threatened by relentless disintegration and devastation, with a focus on oceans and skies. Conjured from both memory and photo references, the figures in my paintings inhabit vistas that I have explored in the past and present, with a focus on their relationship to bodies of water. 
I have been working on this painting series all year and look forward to finding exhibition opportunities in public galleries in the Maritimes and Ontario—please stay tuned! 
The other wonderful news was the purchase of my painting "Neon Night Sky" by the Nova Scotia Art Bank. This painting was exhibited at the Anna Leonowens Gallery in Halifax in September as part of the new collection (2022 NS Art Bank New Acquisitions), and it was great to attend the opening and see my painting in such good company and meet some of the artists as well as the Arts Nova Scotia staff. 
Many thanks to Arts Nova Scotia for their generous funding and support! 
On the exhibition front, I was invited to have a solo show in the beautiful main gallery at the Elora Centre for the Arts, and exhibited my painting series "Splendid Isolation" from May 26 to July 24th. 
Almost 300 people attended my opening, and it was an amazing experience in every way. There were fifteen wonderful traditional musicians playing jigs and reels on fiddles, mandolins, bodhrans, concertinas, pipes, and banjos in the middle of the gallery…the music and energy was incredible.  I gave an artist talk on July 21st to a packed gallery and had the chance to reconnect with many old friends. The response to the show was inspiring and overwhelming. 
This winter, we're going on a 2-week trip to the UK, initially spending 4 days in London to visit galleries (a first for me!) and then to Scotland to visit family and friends. 
When we return, we'll load up the cargo trailer and head back to Ontario for a 3 months visit. I'm looking forward to painting and printmaking in my Elmira studio again, and re-engaging with my etching press and getting back into monotypes.  I'm also looking forward to reconnecting with friends and family. 
I'll be back in Nova Scotia in May, just in time to enjoy the beautiful spring and my lovely studio in the Oakdene Centre. 
As always, many thanks for your friendship and continuing support! 
Happy New Year to you all.   All the best in 2023…..wishing you good health, prosperity, and peace. 
Best wishes, 
Eva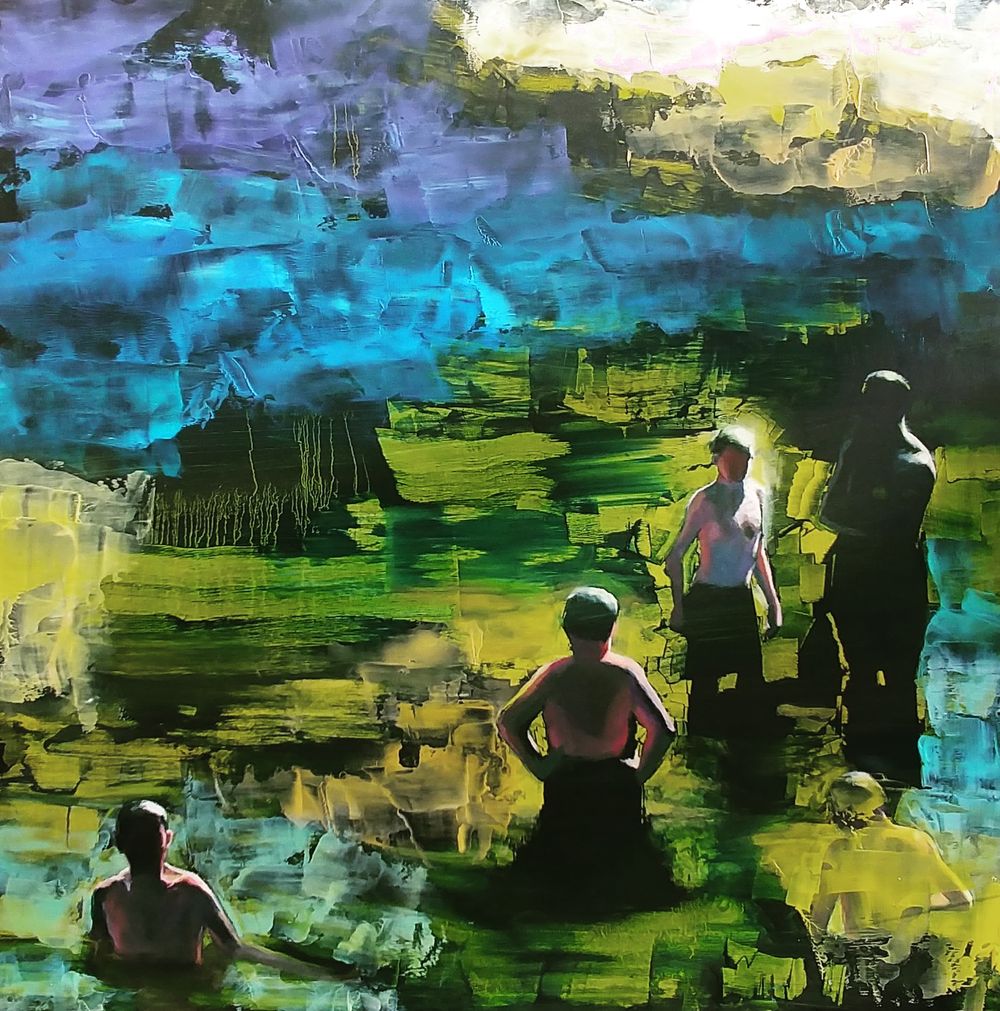 ARTS Nova Scotia "Creation Grant" awarded in 2022 
February 17, 2022
I recently received the very good news that I have been awarded an Arts NS "Creation Grant", which will help fund the creation of my next series of paintings entitled "Ruptured Landscapes". 
Ten paintings will be created between April 1st and Nov. 1st, 2022, exploring the relationships between humans and the fragile environment we live in, a world threatened by systematic disintegration and devastation. 
Environmental concerns are a focus in my current practice. My most recent paintings explore and speak to climate and environmental change, particularly on oceans and shorelines: the sea level is rising, waters are warming, storms are intensifying, lives and communities are at risk. 
Conjured partly from memory, partly from my own photo references, the figures in my paintings uneasily inhabit places that I have explored in the past and present, with a focus on their relationship to bodies of water. 
Many thanks to Arts NS for this grant!
Eva's Blog
January 2022
Happy 2022 to you! I hope you had a relaxing holiday and that the new year brings peace, happiness and good health. 
I have exciting news! I will be having a solo exhibition of my new painting series, "Splendid Isolation", at the Elora Centre of the Arts this summer, from May 26th until July 24th in 2022. 
"Splendid Isolation" is a series of paintings created in my studios in Elmira, ON and Bear River, N.S., from 2020 to 2021, exploring themes of isolation and transience during the surreal time of a global pandemic, unveiling the beauty that arises from creating in solitude. 
I'm very pleased to be exhibiting it in Ontario this year, particularly since this series was funded by the Region of Waterloo Arts Fund.  Many thanks to the RWAF for funding this project! 
I'm delighted to be showing my work in this beautiful gallery space. The last time I showed my work there ("Solas agus Scath" in 2009) it was a great experience in every way. 
The opening reception for "Splendid Isolation" will likely be on Saturday, May 28th and there will be live music--a traditional Irish music sessions with fiddlers, tin whistlers, mandolin players, concertina players, guitarists, and tenor banjo players!
There will be a full colour catalogue printed to document the show. (Please let me know if you'd like a digital copy if you're unable to attend the exhibition, and I will send it to you.) 
If you're in Ontario, I hope you can come! It'd be lovely to see you. 
As some of you know, "Splendid Isolation" was recently shown in the beautiful main gallery at ARTsPLACE from April 24 to July 31st, 2021, in Annapolis Royal, N.S. 
Big thanks also to the Canada Council for their financial support, and to Sophie Paskins of ARTsPLACE Gallery in Annapolis Royal. 
I hope to see some of you in Elora this summer! 
Take care and I hope our paths cross soon :)