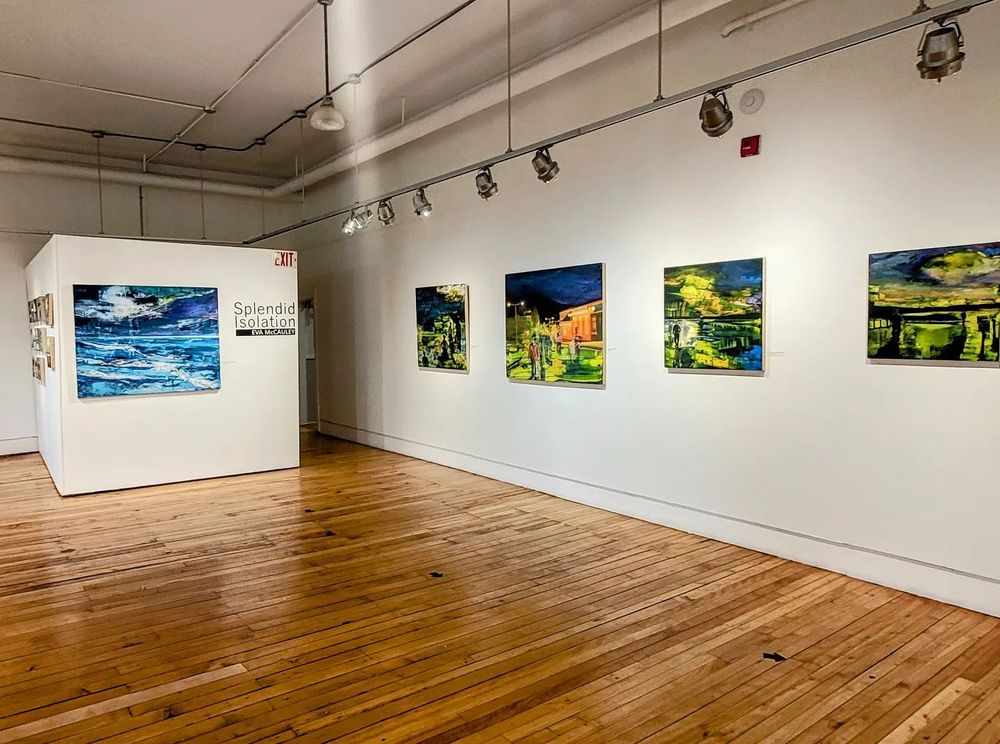 Eva Mccauley - Artist Talk 7:30 pm @ ECFTA
Splendid Isolation
Artist Statement 
In his novel, "Kafka on the Shore", Haruki Murakami wrote: 
"Once the storm is over you won't remember how you made it through, how you managed to survive. You won't even be sure, in fact, whether the storm is really over. But one thing is certain. When you come out of the storm you won't be the same person who walked in." 
The paintings in this exhibition are my response to the pandemic of 2020, during which there has been an ongoing struggle to make sense of our shifting world.  
These paintings embrace uncertainty and a feeling of fragmentation, while also unveiling a beauty arising from creating in solitude, resulting in transitional realizations and insights, during a time of conflicting political tensions, and personal & social constraints. This is reflected in the paintings through strangely lit environments of strongly contrasting light and colour, inhabited by solitary figures. 
We are living through a life-transforming time with an unseen enemy that is grim and frightening, yet strangely abstract. I am attempting to cope with this reality through the act of painting; this is the way I understand and process the world. 
I have responded by simplifying my life-- paring it down--to just me, my paints, canvas and the solitude of my studio. The isolation I have experienced daily in my studio has been a splendid isolation--a time of rich contemplation and feelings of gratitude. Isolation became a vehicle for introspection and creativity. 
There are twelve paintings in this series. The intensity of the colours and strong lights and darks in the paintings are deliberately oppositional, juxtaposing warm and cool colours. I have employed intensity of colour to mirror the intensity of feeling that comes with recreating a memory of a time and place, while the outside world is in turmoil. 
Over the course of this year of Covid, I have noticed that the things that are most important to me have become amplified: things like human connection, the time and space to create, to meditate, to slow down and be in the moment.  Making art helps me to process my memories, experiences, to find connections and to understand the world. All my paintings contain the echoes and scars of my life. 
Paradoxically, this calamitous and challenging year has offered me many more small and unexpected gifts than has any year I can recall. Life feels so fragile these days, on both a global and personal level, yet so much sweetness has emerged from all of the struggle, anxiety and adversity. 
List of Paintings in the Exhibition: 
 1. Splendid Isolation (Under the Soaring Sky)    5' X 4' 
Oil on birch panel    2020   $5000.00 
2.    Splendid Isolation (Night Swimmers, Red Sea)     42" X 48"    
Oil & beeswax on birch panel   2020    $4400.00 
3.    Splendid Isolation (Approaching Storm)   40" X 51" 
Oil & oil bar on birch panel   2021   $4400.00 
4.    Splendid Isolation (Tempest)   48" X 40" 
Oil on birch panel    2020   $4200.00 
5.    Splendid Isolation (Turquoise House at Night)   42" X 48" 
Oil on birch panel 2020   $4400.00 
6.    Splendid Isolation (Blinded by the Sun Shining on the Sea)   40" X 50" 
Oil on birch panel   2020    $4400.00 
7.    Splendid Isolation (Night City)    40" X 48" 
Oil on birch panel    $4200.00 
8.    Splendid Isolation (Man by the Dingle Pier)   24" X 24" 
Oil on birch panel 2020    $2500.00 
9.    Splendid Isolation (Neon Night Sky)  30" X 30" 
Oil on birch panel   2020     $3200.00 
10.    Splendid Isolation (Dog Days of Summer)  20" X 20" 
Oil on birch panel 2020       $2200.00     SOLD
11.    Splendid Isolation (Windblown Blue)   18" X 24" 
       Oil on birch panel    $2200.00 
12.    Splendid Isolation (Night Swimming) 5' X 4'   
Oil/mixed media on birch panel 2020     $5,000.00 
13.    Splendid Isolation (The Sea was in a Beautiful Boil)    42" X 48" 
Oil on birch panel   2020    $4400.00 
14.   Splendid Isolation (Last Light)  10" X 12"   oil on birch panel    2021    $850.00    SOLD
15.    Splendid Isolation (Coming of Spring)  10" X 10"  oil on birch panel  2021   $800.00 
16.    Splendid Isolation ((Red Sky, Red Tide)   12" X 12"   oil on birch panel  2021   $900.00 
17.    Splendid Isolation (Sun and Fog)  12" X 12"  oil on birch panel 2020        $900.00 
18.    Splendid Isolation (Scorched Sand)  12" X  12"  oil on birch panel  2021    $900.00 
19.    Splendid Isolation (Eventide)   12" X 12"     oil on birch panel  2020          $900.00 
20.    Splendid Isolation (Swimming by the Light of the Moon)     16" X 20"    2021      $1600.00 
21.    Splendid Isolation (Ghost Swimmers)   15" X 15"   oil on birch panel  2021    $1200.00 
22.    Splendid Isolation (Quietude)    10" X 12"     oil on birch panel     2020     $800.00 
23.    Splendid Isolation (Feel the Heat of the Blistering Sun)  12" X  12"   oil on birch panel 2021  $900.00    SOLD
24.    Splendid Isolation (Moonlight)   8" X 8"   oil on birch panel  2020   $700.00 
25.    Splendid Isolation (Water Ghosts)   13" X 13"   oil and mixed media on mahogany panel  2021 $900.00    SOLD